Contacts and Location
Phone: (858) 534-8298
Email: ophd@ucsd.edu
To make an online report of bias, harassment or discrimination, please visit reportbias.ucsd.edu.
Our mailing address is:
Office for the Prevention of Harassment & Discrimination
University of California San Diego
9500 Gilman Drive
Mail Code 0024
La Jolla, CA 92093-0024
Visit Us
The office is open Monday through Friday, 8:00 a.m. to 4:30 p.m.
We can be found on the UC San Diego Main Campus, in University Center 201, located on the northwest corner of Gilman and Myers.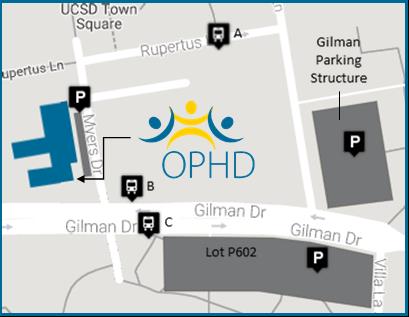 Click to expand and print map.
COVID-19 Update (Effective 3/16/2020)
Due to COVID-19 precautionary measures, OPHD staff will be working remotely until further notice. Our physical office space in University Center 201 will be closed during this time.
For assistance, we may still be reached at the contact information above.
If you are experiencing an emergency, please call 911 or campus police at (858) 534-4357.
Thank you for your understanding.

For more information on how UCSD is addressing the Novel Coronavirus, please visit coronavirus.ucsd.edu.
Staff
Michael Diaz
Director and Title IX Officer
Helen Kaiser
Associate Director and Deputy Title IX Officer
(858) 534-9104
Andrea Hopkins
Complaint Resolution Officer
(858) 534-4560
Erin Levy
Complaint Resolution Officer
(858) 534-4658
Michael Budelsky
Complaint Resolution Officer
(858) 534-8150
Steve Swenson
Complaint Resolution Officer
(858) 822-0653
Susan Gilmor
Complaint Resolution Officer
(858) 822-3702
Gwen Peck
Response Team Coordinator
(858) 534-4024
Audrey Purnama
Administrative Officer
(858) 534-9103
Staff Training
Title IX Officers and Complaint Resolution Officers participate in annual seminars and training sessions to stay up-to-date:
Systemwide Title IX Training, September 2019
Systemwide Title IX Training, December 2019